Uncover 50 healthy soft foods to eat and enjoy after tooth extraction. Plus, learn which foods to avoid, how to soften foods, and see answers to post-surgery diet FAQs.
About to go have a tooth or a few teeth extracted and been told you'll need to be on a soft foods diet while your mouth heals? Yup, I've been there and done that too, so I know how overwhelming it be can to figure out what the heck to eat that is tasty, nourishing and soft.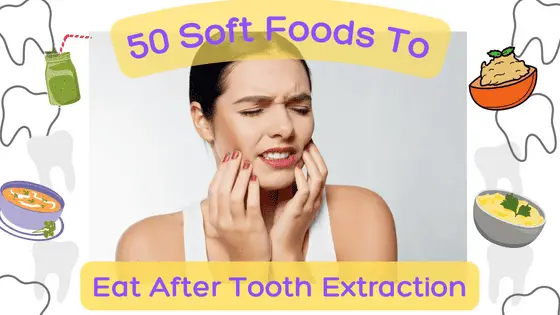 And yeah, don't worry you are not the only one who needs to get a tooth removed. In fact, according to Gitnux, about 5 million people each year get their wisdom teeth removed. Tack on all the people that have other teeth removed for varying reasons like dental implants, infection, etc and you'd be hard-pressed to not know at least one person who hasn't had a tooth pulled.
Now of course, as a registered dietitian specializing in dental nutrition, I am all about consuming foods and drinks that are healthy, nourishing, yet tasty and fun to have too. What you eat before and after oral surgery, plus sticking to soft foods after can have a major role in the post-procedure healing process.
FYI if you'd like a list in PDF form of the 50 soft foods to eat after tooth extraction plus some foods to avoid, click here to subscribe to Dental Meal Plans emails and receive the PDF right to your inbox
Why Soft Foods After Tooth Extraction Dental Surgery
Depending on the extent of your dental work you may go to the dentist's office or oral surgery center. Either way, even if you don't go to the hospital for the procedure, it is still a surgery where precautions and post-operation guidance should be followed. Now, most likely part of that post-surgery guidance is to be on a soft foods diet. How long and the specific type of soft foods diet you need to follow will depend on your specific surgery, so always be sure to follow your healthcare team's instructions.
Although being on a soft foods diet may not be your ideal way of eating, it is temporary and is important as it can help surgical site healing by:
reducing irritation
reducing pressure
reducing the likelihood of sutures rupturing
reduces potentially biting down on the affected area
allows tissues and bones to have time to heal
can reduce pain
For more information about why a soft food diet, please refer to Colgate's soft food diet article.
Benefits of Incorporating Healthy Soft Foods
As I mentioned earlier as a registered dietitian I am all for fueling and nourishing your body with nutrient-dense foods. There are a lot of highly processed, highly refined soft foods out there that are low in nutrients and high in inflammatory ingredients.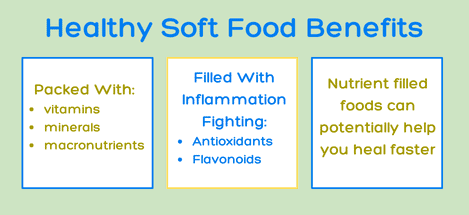 By including healthier soft foods in your recovery diet you provide your body with all sorts of vitamins, minerals, macronutrients, antioxidants and flavonoids that your body needs to recover and potentially even heal faster. For more details on how specific nutrients help with oral surgery healing check out my other blog post Healing Foods After Tooth Extraction and head on down to the foods and nutrients for healing section.
However, I think balance is important and there's no need to omit your favorite milkshake or ice cream frappe. Fear not, I compiled this list of 50 healthy soft foods to include delicious alternatives to your favorite sweet tooth no-chew food. So, check out the next section for the list!
50 Healthy Soft Foods Post Tooth Extraction
Applesauce
Baked cod
Beef stew
Black bean soup
Bone broth
Brown rice
Canned salmon
Carrot soup
Cheesy grits
Chicken noodle soup
Chicken salad
Coconut cream blueberry popsicle
Cooked berries
Cottage cheese
Crushed canned pineapple
Finely chopped steamed carrots and green beans
Greek yogurt
Hummus
Kale and blueberry smoothie
Kefir
Mashed avocado
Mashed banana
Mashed peas
Mashed sweet potatoes
Mashed yellow potatoes
Meatloaf
Milk
Miso soup
Moist, softened zucchini bread
Nut butters
Oatmeal
Passion fruit smoothie bowl
Pasta
Peanut butter banana nice cream
Pot roast
Pureed prunes
Pureed squash soup
Quinoa
Refried beans
Ripe, peeled and finely diced peach
Scrambled eggs
Seedless watermelon salad
Shredded chicken covered in gravy
Softened seedless whole-grain bread
Spinach and pineapple smoothie
Tofu dark chocolate pudding
Tofu scramble
Tuna salad
Warm, well cut softened cheese
Vegetable juice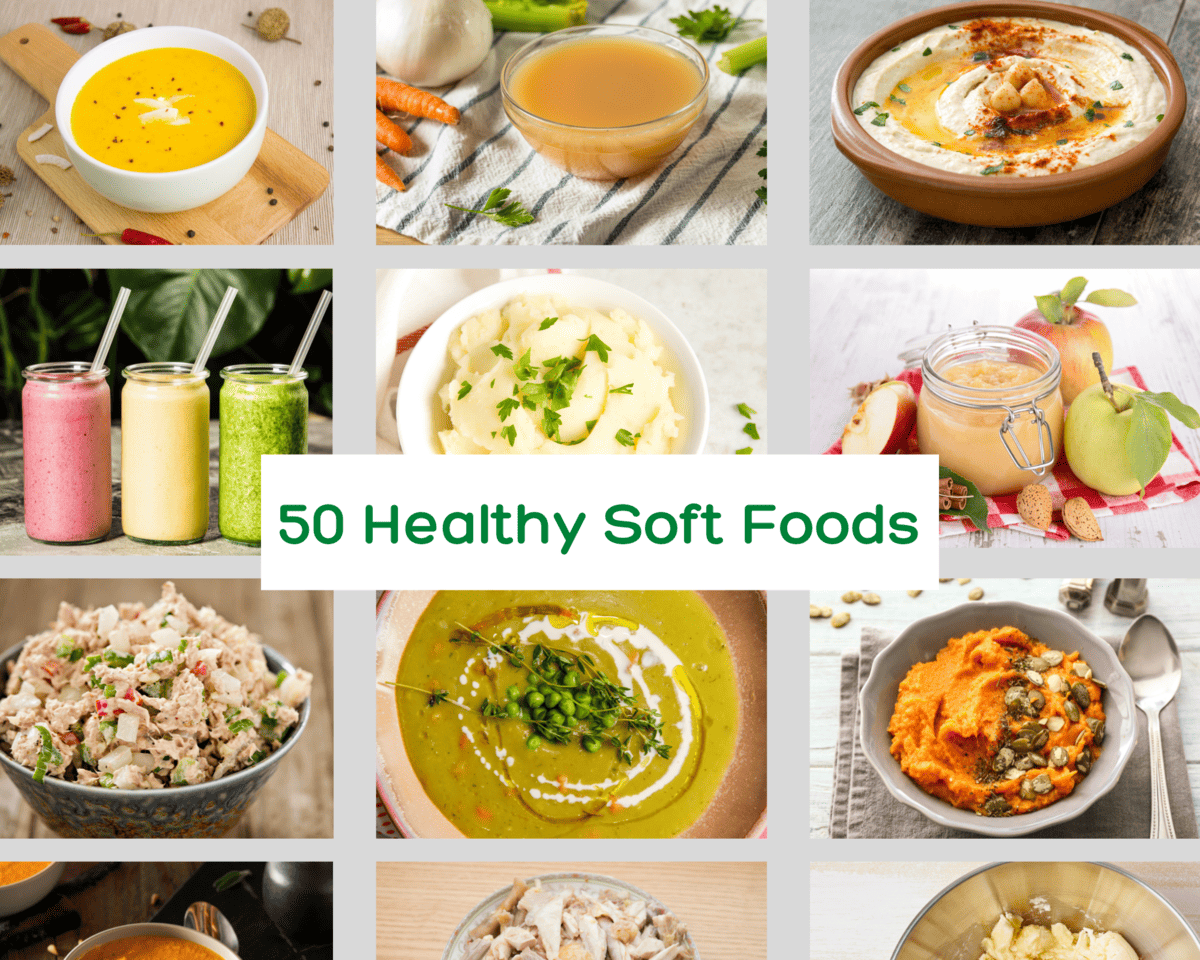 You may notice from this list that some foods are more of a meal or snack suggestion as opposed to an individual food or the items may provide descriptions that help make the food soft. This is because I truly do want you to enjoy your soft food diet and recovery time as well as feel prepared with information about no or low-chew healthy food ideas. With that being said here are some tips and preparation suggestions.
How To Soften Foods: Tips and Preparation Ideas
Certain fruits, vegetables, grains and meats are not naturally soft. This does not mean you need to avoid them, there are ways to soften these foods and reduce chewing, so they can be part of a yummy soft foods diet.
Meats, Poultry and Fish
To soften meats and poultry try chopping them up into small bite-sized pieces and adding them to slow cooker or pot roast dishes. You can also cook the meats or poultry, then once finished chop them up into small or shredded pieces and smoother with gravy, sauces, or mix into mashed potatoes.
To soften fish if you bake it ensure that it is cooked and flaky. Then, cut into bite-size pieces and cover with a sauce or add to mashed potatoes or mashed avocadoes.
Fruits and Vegetables
To soften fresh fruit one way is to place it in a paper bag, seal it and wait for it to soften. Another way is to peel it, chop it up and put it in the microwave for a few seconds. Or you can steam the fruit.
To soften vegetables, ensure you slice them into small, bite-size pieces. Then you can steam them on the stovetop or put them in some water and throw them in the microwave.
Grains
To soften whole wheat or whole grain bread, pop it in the microwave for a few seconds. To soften oats try soaking them overnight or making overnight oats.
Preparation
Scrambling to figure out what to eat the hours or days after your surgery can be an added stress when all you may want to do is relax and recover. Try grocery shopping and preparing a few meals and snacks the days before your procedure, so you can just grab and rest after surgery.
For more information on how to soften foods, refer to the additional sources section.
Soft Foods Diet Frequently Asked Questions (FAQs)
I've been helping people by providing information and creating soft food meal plans for years. Here are the top three questions I get asked when it comes to soft food diet help: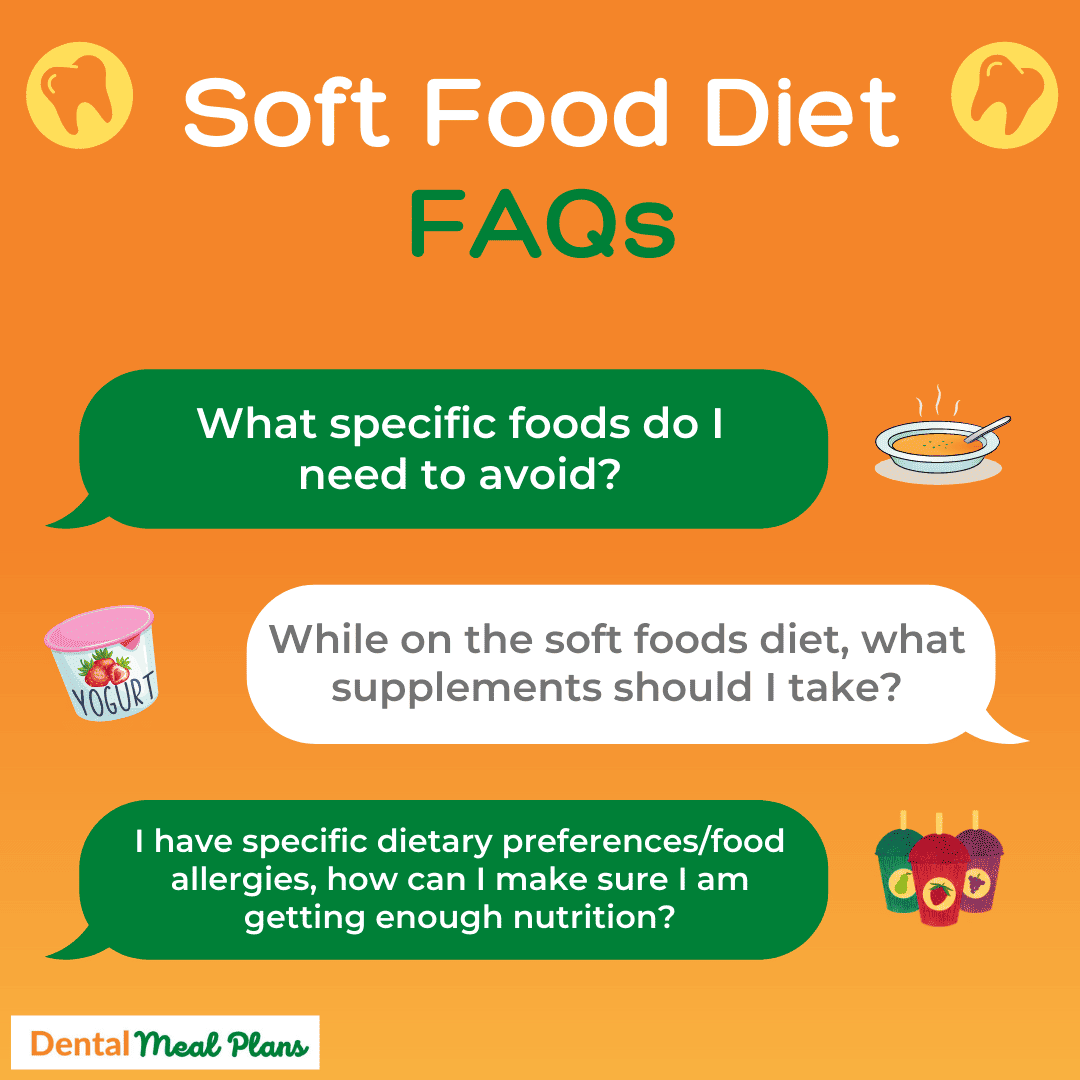 What specific foods should I avoid while on a soft foods diet?
This is a great question! You want to avoid the following,
Hard candies
Chewy foods
Sticky foods
Nuts
Seeds
Gum
Popcorn
Spicy, acidic foods
Extremely hot foods
Extremely hot beverages
Alcohol
Caffiene
Carbonated beverages
What supplements should I take while on a soft foods diet?
This is a highly individualized question that depends on a myriad of factors such as your overall health status, typical diet, health conditions and health goals. You may see a lot of noise on social media about needing to take certain supplements, but please be mindful that what works for one person may not be needed for another.
Plus, unlike prescription drugs, supplements are not regulated or held to the same standard, so knowing what supplement to take, what dosage and what brand can be tough. As a dietitian, I am here to help, please reach out.
I follow a specific diet or have food allergies a soft food diet feels limiting and I am afraid I won't get enough nutrition. What do you suggest?
First of all, this is completely understandable to feel restricted on a soft food diet when you already may feel restricted on your typical diet. The list provides 50 soft foods, so hopefully you found some food ideas you can enjoy. Try modifying the soft food suggestions to meet your specific needs.
If gluten-free head on down to the additional resources section for more information. If you are a vegetarian, I offer a one-week soft food meal plan for purchase on the services page. If looking for a custom plan to meet your needs please contact me to further discuss.
Conclusion
From cottage cheese to soft cooked vegetables to tofu pudding to smoothies to salmon salad and many ideas in between there are so many foods to enjoy while on a soft foods diet. Of this list of 50 soft foods, I hope you found some fun foods to nourish yourself, a friend or a family member after a tooth extraction procedure.
To receive a list of these soft foods and preparation tips PDF, straight to your inbox sign up for Dental Meal Plans emails here! And if you'd like to take the thinking out of soft food planning, head on over to the services page for a premade one-week soft food meal plan that includes recipes and soft food guidance.
Thank you for taking the time to check out this post and website. Always here to support your dental nutrition needs, any questions etc please reach out to me via my contact page.
Cheers to all these 50 soft foods and an enjoyable tooth extraction recovery!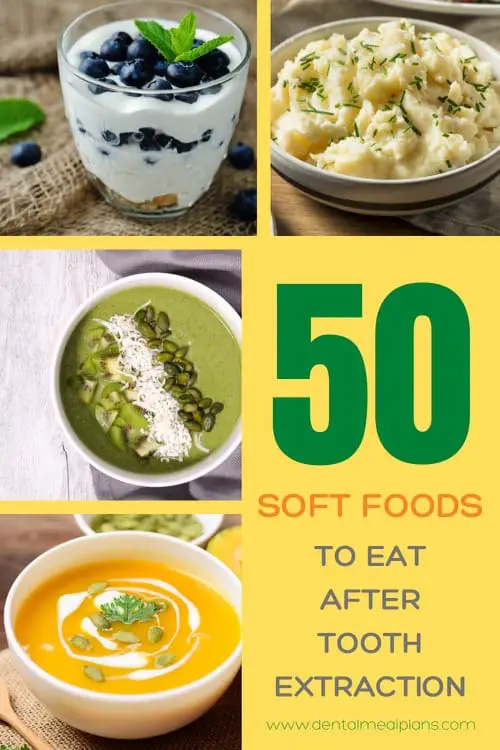 Additional Sources
50 Soft Foods To Eat After Tooth Extraction