Eat Well To Heal Well – What You Eat May Impact Tooth Extraction Recovery
Are you or someone you care for about to get a tooth or teeth extracted?  Been advised that you need to be on a soft foods diet after the procedure?  Concerned a soft food diet will be limiting, a burden and/or boring?  
Well, read on to learn what exactly is a soft food, and which nutritious foods to eat that may help with post operation healing.
FYI: If you're looking for 10 healing soft foods list, scroll on down, it's towards the bottom.
And another FYI if you would like the one day soft food sample meal plan plus recipes PDF, just click here and fill out the request form 🙂
Before we get to all things soft food goodness, if you are feeling a little down about getting a tooth extraction, know that you are not alone. It's a relatively common dental surgery.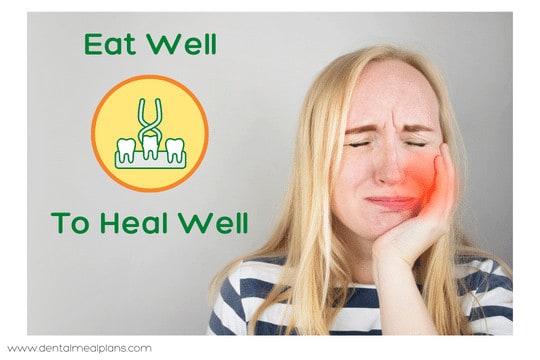 In fact, according to the American College of Prosthodontists more than 36 million people in the United States have no teeth and more than 120 million people are missing at least one tooth.
There are many reasons why you or someone you are caring for needs to get a tooth or teeth extracted. In a clinical study, researchers found the two most common causes to pull a tooth are due to gum disease and or dental cavities.
Along with those two situations, a person may need this procedure due to other issues such as simple wear, injury, broken teeth, cancer, smoking, diabetes or overcrowded teeth.
No matter what the reason is for your tooth extraction, nutrition is an important post-surgery component that may not only aid in the recovery time but is something that can be a soothing enjoyable part of the mending process. 
Depending on how many teeth you are getting pulled, where they are in your mouth and a variety other factors will impact how long you will be on a soft food diet after.  Be sure to follow your surgeon's post-surgery instructions and protocols.
Nutrients and Foods That Promote Wound Healing
No one nutrient is the end all be all when it comes to helping your post-surgery mouth heal. Nutrients within food work together to increase absorption and send all the healing goodness to the impacted area.
Try to focus on consuming a variety of foods during your recovery to ensure you are adequately fueling the extracted area. Scroll on to see information on nutrients that help heal and some food examples of each.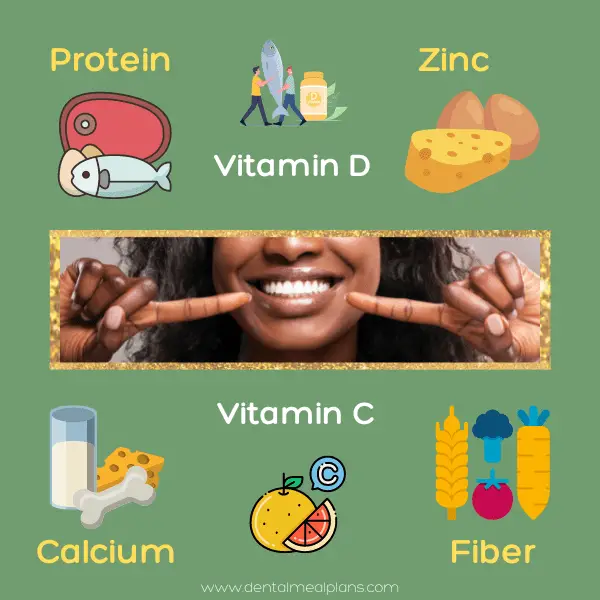 Protein
High-quality proteins with specific amino acids (such as arginine, glutamine, and leucine) help support your immune system, maintain body fluid balance, and contribute to repairing muscles and tissues.
Protein-packed soft foods
Eggs
Cottage Cheese
Yogurt
Nut Butter
Chicken
Vitamin C
Vitamin C is an antioxidant that helps scavenge free radicals and reduce cellular damage. It also supports blood circulation and increases the overall strength of the wound healing around the surgical area. On top of that, this nutrient helps to make and increase the protein collagen. Collagen is an important protein in wound healing that aids in tissue and tendon repair within the gums.
Vitamin C-packed soft foods
Blueberries
Baked Potato
Broccoli
Dark Leafy Greens
Pineapple
Zinc
Zinc is yet another vitamin that helps increase collagen absorption. In addition, zinc also contributes to cell proliferation which means it helps make new tissue around the extracted tooth.
Zinc-packed soft foods
Chicken
Beans
Peanut butter
Sharp cheddar cheese
Eggs
Vitamin D
Vitamin D helps to increase bone strength in your mouth. It also supports the immune system, indicating it may play a role in reducing inflammation and fighting off infection.
Vitamin D-packed soft foods
Calcium
Calcium also helps increase bone strength and reduce inflammation.
Calcium-packed soft foods
Milk
Yogurt
Cheese
Dark Leafy Greens
Fiber
Although not directly thought of to help with healing the area around the extraction, some prescribed medications may cause constipation.
Fiber can help get things moving and potentially relieve some gastrointestinal discomfort.
Plus, foods high in fiber also tend to include other nutrients that help with healing. A win-win.
Fiber-packed soft foods
Vegetables
Legumes
Fruits
Whole grains
And if you are seeking out more general nutrient information for mouth health checkout my other blog post "6 Vitamins For Healthy Teeth and Gums".
What Is A Soft Food?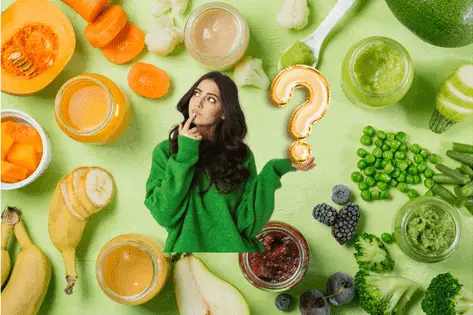 The definition of soft food type and texture varies depending on how many teeth you had extracted. Soft foods diet can range anywhere from to easy-to-cut whole meats and soft fruits to semisolid food that requires some chewing to a pureed, pudding-like food that does not require much chewing and is devoid of seeds to a fully clear liquids.
When it comes to post-procedure soft food type and duration always follow your oral surgeon or dentist's guidelines.
10 Soft Food Ideas To Eat After Tooth Extraction
1. Scrambled Eggs With Cheese and Sautéed Spinach
2. Plain Greek Yogurt With Blueberries and Ground Flaxseed
3. Chicken Noodle Soup
4. Protein Enriched Mashed Potatoes with Cheese
5. Chocolate Tofu Pudding
6. Baked Salmon
7. Spinach, Yogurt and Tropical Fruit Smoothie
8. Bone Broth
9. Peanut Butter on Soft Seedless Whole Wheat Bread
10. Soft Protein Pasta With Cooked Softened Vegetables
1 Day Soft Food Meal Plan Packed With Healing Nutrients
Alright, well know that you have an understanding about what foods promote healing, what exactly is a soft foods and some healing soft food meal and snack ideas, below is a one day soft food meal plan filled with an array of whole food nutrition your body needs while on the mend.
Breakfast
Two to Three Scrambled Eggs With One Ounce of Shredded Extra Sharp Cheddar Cheese and Sautéed Spinach
Mid-morning Snack
3/4 to One cup of Plain Greek Yogurt with One to Two Tablespoons of Ground Flaxseed, 1/2 to 3/4 cup of Finely Chopped Fresh Blueberries, A Dash of Cinnamon, A Splash of Vanilla Extract and a Drizzle of Honey
Lunch
One Serving of Softened Plant Based Protein Pasta (Like Red Lentil or Chickpea Pasta) With One Serving of Softened Seedless Cooked Vegetables and Low Acid Red Pasta Sauce
Mid-afternoon Snack
One serving of Bone Broth or One serving of Chicken Noodle Soup
Dinner
Baked Salmon with Sautéed Spinach and Protein Enriched Mashed Potatoes Topped with Gravy
After Dinner Snack
Dark Chocolate Tofu Pudding Topped With Finely Crushed Pineapple
If you are interested in a PDF version of this meal plan along with recipes for each meal and snack, happy to provide, please follow the steps here to receive it in your inbox!
Conclusion: Plan Ahead For A Successful And Enjoyable Recovery
Have you ever been to the grocery store without any idea in mind of what you want to cook or eat for the week?  If so, I've been there too, and it can feel a little chaotic trying to figure out what to get.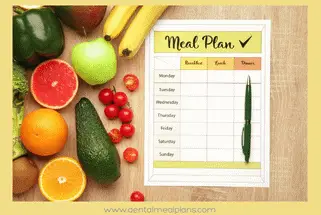 Well, add that chaotic vibe on top of recovering from surgery and wondering what soft foods to eat and those feelings may only be amplified. 
But, if you plan and maybe prep some foods ahead of time, then you may not have to think twice about what to eat. On top of that, since you've picked out what foods you want, you may even enjoy what's on the menu and look forward to tasty soft food.
I know the thought of having to be on a soft foods diet and having a sore mouth can feel limiting. I've been there too. That's why I provide resources and services to help ease your emotions and nourish your recovery.
As always, hopefully, you found this information useful. In addition to this blog I also provide one on one nutrition and meal plan services for pre and post dental surgery, general dental wellness and overall health. For more information, head on over to my contact page and reach out!
All the best and here's to happy extraction healing!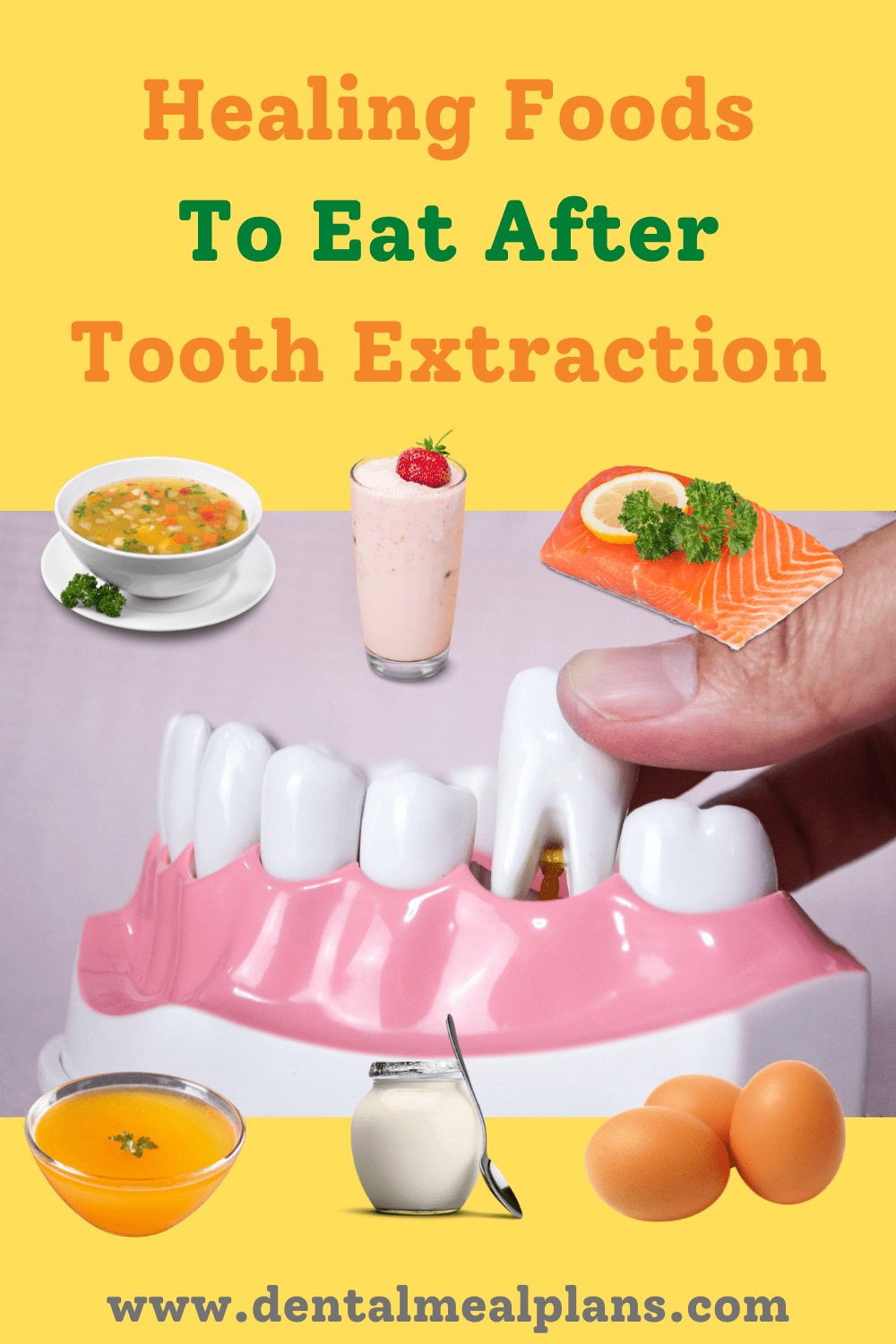 A Few Other Great Nutrition Sources and Soft Food Reads
Healing Foods To Eat After Tooth Extraction