A Review of the 8 Best Low Acid Coffee Brands For Healthy Teeth, Plus Suggestions On How To Increase Coffee's pH
Coffee is a ritual that is an automatic habit of many people's mornings. It helps to get us going and contains a ton of health benefits. Often, it's the common denominator that brings coworkers, acquaintances, friends, and family together.
You may be aware that coffee has some wonderful oral and overall health benefits. But it also can cause some adverse health issues such as heartburn and gastrointestinal esophageal reflux disease.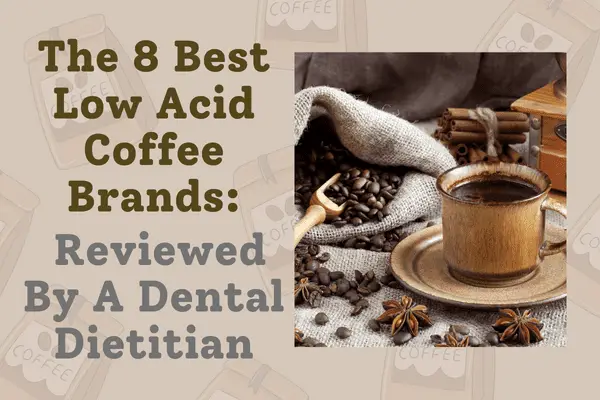 Regarding your teeth coffee can stain them and since it has such a low pH (aka coffee is acidic) it could contribute to tooth decay. For more info on coffee nutrition and health impacts explore my other post "Is Coffee Bad For Your Teeth?".
Before we dive into the best low acid coffee brands, lets' briefly explore what a high acid and low acid coffee is and when it makes sense to chose a low acid coffee.
What Exactly Is Low Acid Coffee?
Acidity of a product is measured on the pH scale.  The scale ranges from 0-14 with numbers between 0-6 being acidic, 7 neutral and 8-14 alkaline.  The typical cup of coffee has a pH of around 5 making it an acidic beverage.  
Coffee's acidity can be contributed to its chlorogenic and quinic acids. Quinic acid is what can cause upset stomachs and general gastrointestinal problems. Low acid coffees are manufactured or brewed in a way that reduces the level of quinic and chlorogenic acids. In general, these low acid coffees can have pH's that hover around 6, making them just one number away from the neutral pH of 7. For context water's pH is 7.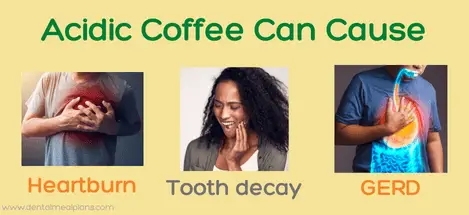 Since low acid coffees are close to a neutral pH, they make a great option for your health. They can reduce the likelihood that coffee will stain your teeth and contribute to tooth decay, reduce heartburn coffee caused symptoms and reduce coffee induced reflux.
Now that you understand what acidic coffee can do to your health and what low acid coffee is all about, read on to learn about the best low acid coffee brands.
Note: Every coffee product is independently selected and thoroughly reviewed. I only recommend products that align with the goal of this blog post and I myself would use. This review provides Amazon links for each product. As an Amazon associate, I may earn commissions for qualifying purchases. at no extra cost to you.
The Best Low Acid Coffee Brands: A Thorough Review
Why We Love It
This coffee company did not cut any corners when it came to delivering you best in class coffee. To start, Lifeboost coffee is low acid with a pH of 6. On top of that, the coffee is certified USDA organic and non-GMO. But it doesn't stop there. The company voluntarily undergoes third party testing for mycotoxins, heavy metals, pesticides plus 400 other toxins.
Along with all the testing and certifications this coffee is grown in the shade. This method of growing makes the coffee beans more nutrient dense, making this coffee a bit more nutritious than your average cup of joe. And when it comes to flavor if you enjoy 100% Arabica bean with a full-bodied taste from start to finish, you'll love this brand too!
Things to Consider
Lifeboost is certainly a higher price than most other coffees.  Now, given all the testing and low acidity this can be understandable.  For a 12-ounce package the coffee costs around $27.95 on Amazon.  However, you can save money on Amazon by subscribing and saving 10-15% per order.  To learn more, checkout the link below.
Another option to purchase this coffee is directly from the Lifeboost website. As of right now, it the coffee costs $27.95, but just like amazon you can subscribe and save between 10-15% too.
Why We Love It
Puroast low acid coffee isn't just some coffee beans or grounds thrown in a bag. This company is yet another company that follows specific manufacturing procedures along with science backed practices to produce high quality coffee.
Puroast coffee is roasted using a proprietary technique that lowers its acidity by 70% and increases its antioxidant properties to 7 times more than that of green tea. These may seem like bold statements, but Puroast took the time to conduct scientific research to support the claims.
The company offers a variety of flavors, and the average pH of the company's coffee offerings is 5.81. Making this coffee closer to neutral than the typical off the shelf choice. You can look forward to satisfying your tastebuds with flavor options such as bourbon pecan, hazelnut, vanilla, dark roast, lost art blend and house blend. Between the options and commitment to producing a science backed coffee you can feel good trying this one.
Things to Consider
Like Lifeboost, Puroast can be pricey depending on where you purchase it.  For a 2.2-pound bag (about 32 ounces) of the house blend on Amazon the price is $24.90.  Or you can subscribe and save 5-15% depending on how many items you have subscriptions for.
Another online purchase option is to buy directly from the puroast website. Depending on what flavor you choose the price for a 2.2-pound bag can range from $32.00-$36.00. And, if you create an account, you can get points for each purchase!
Why We Love It
If you love a chocolatey, tangerine, nutty flavored coffee, then you'll love this low acid coffee brand. The company is yet, another company that takes pride in producing a high-quality products. The beans are obtained from locations within specific countries that have environments that naturally make low acid coffee. Then, the company has a proprietary roasting method, another step that gets the already lower acid coffee beans closer to a neutral pH.
The coffee is 100% arabica beans and has a pH of 5.3. Now, this pH is just a tad higher than usual non-low acid coffee, however every step closer to a neutral pH is a better coffee for your oral and GI health. Plus, with the flavor, it's truly enjoyable.
Things to Consider
Volcanica coffee depending on your budget can be considered a middle to higher-priced coffee. You can purchase a bag directly from the company website for $19.99 or you can subscribe and save 10%.
Another option is purchasing the coffee via Amazon. The price on Amazon is the same as on the company website of $19.99 or you can subscribe and save 10-15%. If you have five or more subscriptions on amazon you can save 15%.
Why We Love It
We recommend this coffee brand because of its unique way of fusing flavors to bring you a coffee that not only gets your day going but fuels your health too. The company blends matcha, rooibos, and goji into their coffee, making it a beverage that packs a nutrition punch.
Tieman's coffee claims this fusion of herbs, teas and coffee makes the drink have five times more antioxidant content than green tea and four times more antioxidants than blueberries. On top of that, the company claims their coffee slowly releases caffeine in your body resulting in smoother, cleaner, and longer lasting energy throughout the day.
The dark roast blend is French roast flavor and has a pH of 5.97. This makes it just over one pH off neutral. If you are looking for energy from coffee that may last for five to seven hours plus antioxidant content and something that is gentle on your teeth and stomach, this one may be worth a try!
Things to Consider
The coffee comes in 10-ounce bags. One 10-ounce bag of whole bean style coffee can make 40, eight-ounce cups. You can find it on the company's website or Amazon.
On Tieman's website, you can get a bag for $10.99 and as of right now, the website has offers for free shipping or a free bag! On Amazon, you can find it for $15.95 with 2-day shipping if you have prime. If you have Amazon fresh, you'll be able to get a bag for $9.10.
Why We Love It
The Trucup coffee company seems to have something for almost everyone when it comes to flavor and brew methods. You can find the coffee in mild, medium, and bold roast options and can choose from getting it in whole bean, ground, or k-cup forms.
The coffee's pH is 5.74 and the company claims this makes it 60% lower in acidity than most of the leading national brands. This low acid coffee brand wants to find a coffee flavor you enjoy, and they make this accessible by being able to order coffee samples or a flavor k-cup variety pack. With this brand, you'll have options to find a coffee that you can truly look forward to every morning.
Things to Consider
Trucup can be purchased online from places like the company website or Amazon. On Trucup website you can find a 12-ounce bagged coffee for $14.95. Or if you use a Keurig you can purchase k-cups on the company website for $39.95 for a 48 count with the option to subscribe and save 5% bringing the price down to $37.95
If you like to purchase the item from Amazon, you can find the 12-ounce bagged coffee for $14.95 or 48 k-cups for $39.95.  And, if you are a prime member, this coffee is eligible for prime two-day shipping.
Why We Love It
As you may know, expecting moms need to limit their daily caffeine intake to 200mg per day. This is the equivalent of 1.5 cups of eight ounces of coffee. Mommee coffee was created for pregnant women. Since pregnant women can experience heartburn and must limit their caffeine intake it can be hard to find a coffee that suits their needs. So, we love this coffee for creating a brand with mom in mind.
Now, because it is meant for moms doesn't mean you should overlook it as it is a great low acid coffee option. This coffee is certified organic, mold and mycotoxin free and non-GMO. It is made with a lower chlorogenic acid content (that's the acid that can cause heartburn and lowers pH) and is made to be higher in antioxidants.
On top of all these benefits and attributes, the coffee is a medium roast and tastes tangy smooth with a hint of chocolate. If you are caffeine sensitive you have four options decaf with 2mg of caffeine, regular with 100mg caffeine half caffeine with 50mg and fourth caffeine with 25mg. Expecting or not this coffee is a great low acid option.
Things to Consider
If you are looking online to purchase you can find it from Amazon or the company store. On Mommee Coffee's website, you can purchase ground or whole bean bags with an 11-ounce going for $14.99 and a 22-ounce for $27.99.
If you prefer to purchase via Amazon you can find a ground or whole bean bag with an 11-ounce costing $14.99 and a 22-ounce costing $29.95. If you have Amazon prime, great news you can receive it with 2-day shipping!
Why We Love It
One word to describe this low acid coffee company is variety. Variety in flavors and variety in ways to brew the coffee. Short on time? Café Don Pedro has low acid instant coffee. Brew via k-cup, the company offers that too. And of course, the coffee comes in the traditional ground bags. All with brew varieties, you'll find several flavors. You can enjoy flavors such as donut shop blend, French vanilla, hazelnut, southern pecan and more.
Like other low acid coffee companies, Café Don Pedro's coffee is 100% arabica. They make their coffee low in acid by first sourcing beans that are naturally lower in acid. Then, the company roasts them in a way that removes the tough outer layer of the coffee bean skin. This inherently reduces the coffee's acidity and makes for a great smooth tasting drink!
Things to Consider
You can find it online in several places including the company website and Amazon. On the company website, you'll find many ways to buy in bulk. For instant coffee, you can get six, seven ounces jars for $39.95. If you prefer ground traditionally brewed you can find six, 34.5-ounce cans for $78.95. This makes each can about $13.15. Lastly, the single serve k-cups can be purchased for $39.95 for a 72 count, which makes it 55 cents a pod.
On Amazon, you'll uncover similar pricing. One 34.5-ounce can is priced at $17.95. The instant coffee jars appear to be found a little lower with six, seven-ounce jars for $35.95. Lastly, you can find the 72 counts of k-cups for $41.95. Depending on what brew type and flavor you chose, your preference of Café Don Pedro could qualify for one or two-day shipping if you have prime. Plus, you have the option on some of the coffees to subscribe and save 10-15%.
Why We Love It
The name says it all this coffee company offers low acid coffee with your health in mind. The pH of the company's coffee is the closest to neutral on the list coming at 6.18. Healthwise uses a proprietary roasting method that they advise reduces any excess acid while increasing mineral, micronutrient, and antioxidant content.
The company selects its beans from Colombia and uses Arabica beans. You can choose from a few flavors such as original, chocolate coconut, hazelnut, and French vanilla. Plus, according to the company website they now offer CBD-infused coffee too.
Things to Consider
Healthwise coffee falls in the middle on the list when it comes to price. If you do a quick search, you can find the coffee on Amazon, the company website as well as a few other options. On the company website, you can find the original style can for $15.25, a 12-pack of k-cups for $11.95 or a variety k-cup pack for $44.00. If you prefer other flavors that price varies. And, as of right now, new customers can receive 15% with a discount code offered on the site.
On Amazon, you'll find similar pricing for the original flavor. Ground 12-ounce can for $14.04 or 12 counts of k-cups for $17.38. Both items qualify for prime. You can also find a 72-count of k-cups for $65.35 or other flavors of the k-cups at varying prices.
A Quick List Recap of the 8 Best Low Acid Coffee Brands
Suggestions on How Make Coffee Less Acidic
All the coffees on this list have been thoroughly explored to offer you options that are closer to neutral pH than the major coffee brands you find on store shelves. Whether you drink some or one of these coffee options or other coffees here are a few suggestions on how to make coffee less acidic.
Add a pinch of salt
Don't let it sit for hours on the pot (or in the cup from a k-cup), drink it right away. The longer it sits the more acidic it becomes.
Try not to reheat coffee in the microwave. This will also make it more acidic.
You can find more ways to increase coffee's pH in my other coffee health blog post.
Final Thought
The goal of this low acid coffee review is to help you understand why low acid coffee might be a good choice for you as well as to provide you with well-researched options. I hope you've found a coffee or two here that you are excited to try.
Cheers to Caffeinated Low Acid Goodness
As always, if you have any coffee questions or are looking for guidance on how to nourish your mouth and overall health, please reach out on my contact page.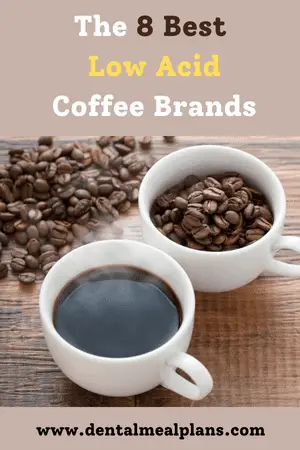 Additional Coffee Studies and Sources
The 8 Best Low Acid Coffee Brands