Learn all about the dental health benefits of Thanksgiving Foods. Plus, ways to Enjoy food on this day if you have A toothache or are on A soft foods diet.
Happy Thanksgiving!  It's somehow already early November, which means good ole turkey day is right around the corner.  If you've stumbled upon this post, chances are you may be looking for some Thanksgiving dental food and teeth tips.
Well, hooray, you've come to the right place.  As a registered dietitian with a love for dental nutrition, I'm here to help you figure out how to nourish your teeth.  So, in this article, we'll go over some tips as well as nutrition facts on the classic Thanksgiving Day foods.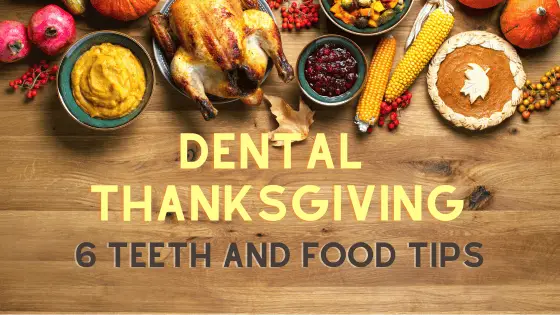 Whether you have a toothache, are on a soft foods diet or just want to know how to maintain tooth health during the feast, I've got you covered.  We will touch upon each concern within the subsection of each food and tooth tip.  Hope you enjoy it!
PS. If you'd like a free PDF containing 3 Thanksgiving recipes that are great for mouth health and tasty, SUBSCRIBE HERE and get it delivered right to your inbox.
And another PS. if you are a dental health provider and are part of a dental practice and would like a festive Thanksgiving handout on 6 Thanksgiving Food Facts and Teeth Tips, then SUBSCRIBE HERE and get the handout delivered right to your inbox.
6 Thanksgiving Food and Tooth Tips for Happy Oral Health and Full Tummies
1.) Eat The Turkey!
Yes, you read that right, eat the dang turkey!  Did you know turkey is jam-packed with nutrition that is great for your oral and overall health?  Yup, according to the USDA food database per a 3-ounce serving of cooked turkey breast, you'll get about 25 grams of protein, 7 milligrams of calcium, 196 milligrams of phosphorus, 217 milligrams of potassium among many other nutrients.
And why do you want to consume these nutrients for happy teeth?
Well, fun facts; protein is a crucial nutrient for building strong teeth and it helps maintain, repair and keep your gums strong.  On top of that, calcium supports your teeth by keeping the enamel strong aka helps reduce the development of cavities.  Phosphorus works alongside calcium to also help strengthen your enamel and potassium works in conjunction with calcium to help keep your jaw strong.  For more details on vitamins for strong teeth and gums, check out my other blog post "6 Vitamins for Healthy Teeth and Gums".
For those with toothaches or on a soft food diet, here's how you can enjoy turkey
It can feel limiting when your teeth hurt, or you can't chew food at the moment.  Fear not, turkey and its benefits can still be consumed.  Try smothering turkey in gravy to soften it.  Then, cut it up into small bite-sized pieces.  You can also take small pieces of turkey and mix them in with mashed potatoes and gravy to reduce chewing as well.
2.) Show Veggies Your Gratitude
Vegetables are packed with nutrition that helps your mouth health.  However, they are not always the shining star on many a Thanksgiving dinner table.  You may have a green bean casserole, or some veggies mixed into the stuffing, but from what I've experienced and heard, veggies, specifically things like a salad, tend not to be at the forefront during this day.  
How Veggies Help and Hydrate Your Teeth
Have you ever heard that you could eat your hydration?  It's true certain foods are packed with water that helps keep you hydrated.  Having a fresh house-style salad before or with a Thanksgiving meal can help you consume water.  For real, check these hydrating veggie facts:
•    ½ cup of sliced cucumbers is about 52 grams of which 49.5 grams of that is water
•    1 cup of fresh spinach is about 30 grams of which 27.4 grams of that is water
•    1 cup of shredded lettuce is about 47 grams of which 44.5 grams of that is water
•    100 grams of Roma tomatoes has about 94.7 grams of water
•    1 cup of grated fresh carrots is about 110 grams of which 97.1 grams of that is water
So, if you have a classic house style at some point during Thanksgiving Day you are chewing on some lovely sources of hydration.  For reference on these veggies' nutrition facts, please refer to the links in the additional sources section.
Plus, these veggies are filled with potassium, phosphorus, vitamin C and calcium all vitamins and minerals your mouth needs to stay well.  And, another fun fact, chewing foods helps increase your saliva production.  Salvia helps clean your teeth by removing bad bacteria and food debris which could help lessen the likelihood of getting a toothache or cavities.  You can learn all about how saliva helps your mouth and what to eat if you have a dry mouth, via Dental Meal Plan's other blog post, "Food That Increase Saliva Production".
So, if you want to slip some veggies into this day try having a side salad for breakfast or lunch or whatever meals or snacks you have before the Thanksgiving meal gets up and rolling.  Or try making a salad and have it as a side as part of the big meal.  
How To Get Veggies Soft Food Style?
Toothachers and soft food people I got you.  You can still enjoy veggies by having some veggie-filled soup, and veggie popsicles or making a spinach, kale, and fruit smoothie!
3.) Get Your Cranberry On
Cranberries are the staple side dish to many a Thanksgiving table.  Whether you have it chunky canned style, smoothed canned style, cranberry jam, or some fresh cranberries these little dark red balls are packed with mouth-happy nutrients!
Cranberry Nutrition Benefits
Cranberries are a great source of calcium, phosphorus and potassium as mentioned all nutrients for supporting strong teeth to help prevent cavities.  Additionally, cranberries are filled with vitamin C which is essential for healthy gums as well as vitamin A which is another vitamin that helps keep your teeth strong as well as increases saliva production.
Cranberries for Soft Food Diet and Toothache
Well, cranberries are a slam dunk when it comes to what to eat with a toothache or on a soft food diet for the holidays.  You can get canned cranberries that are chunky or smoothed, which require very minimal or no chewing.  So yay, cheers to soft food cranberry goodness!
4.) Mashed Potato It Up!
Whatever kind of potatoes you use to make mashed potatoes from Yukon, yellow or sweet, mashed potatoes are another Thanksgiving staple that fuels your teeth, gums and jaw with nutrients they need for good health.
Potatoes Nutrition Breakdown and How To Add More Nutrients
The usual types of mashed potatoes on this day are either Yukon or sweet mashed potatoes.  Both kinds are filled with potassium, fiber, and vitamin C.  Fiber helps with saliva production and vitamin C, as written in a previous section, helps support healthy gums. 
Now, if you are looking to make your potatoes even healthier here are two tips to amp up the benefits.  
•    instead of using chicken or vegetable broth, try using bone broth.  Bone broth is a great source of potassium and increases the protein content of mashed potatoes
•    For even more protein and overall mouth health-supporting nutrition, try adding one to two scoops (depending on the brand) of unflavored collagen powder.  Collagen is an especially important nutrient when it comes to healing after dental surgery.  For more on this, refer to my other blog post, "Healing Foods To Eat After Tooth Extraction".
Soft Food and Toothache Mashed Potatoes Tips
Just like cranberries, mashed potatoes are another homerun Thanksgiving food to add to your plate if you are on a soft foods diet or have achy teeth.  This smooth side dish requires minimal to no chewing.  Plus, it makes a great base to add in chopped, small bite-sized pieces of other harder-to-chew foods like turkey and chicken.
5.) Don't Forget Dessert: Enjoy the Pumpkin Pie
Yup, you read that right, although pumpkin pie is a dessert and yes, it's filled with sugar and "not so great for you" ingredients, pumpkins are a great source of nutrition for both your mouth and entire body!
Pumpkin Nutrition 
It's hard to make pumpkin pie without pumpkin.  Depending on the recipe it will call for canned pumpkin or fresh cooked pumpkin.  Either way, pumpkins are filled with fiber, vitamin A, vitamin C and potassium all nutrients that have been shown to support varying aspects of dental wellness.
In addition to the nutrients, pumpkins also contain antioxidants, specifically antioxidant beta-carotene.  Antioxidants have been shown to help reduce inflammation and stress at the cellular level.  More information on this in the sources section.  As you may be aware, inflammation and stress have been linked to the development of varying ailments and diseases.  So, why not enjoy some pumpkin pie and eat up those antioxidants?
How To Have Pumpkin Pie on A Soft Food Diet or With A Toothache
By now, you probably know I wouldn't leave out food to anyone with a toothache or on a soft foods diet.  So, yup if that's you or someone you know, of course they have pumpkin pie, just eat the soft, smooth filling and leave out the pie crust.
6.) Hydrate, Hydrate, Hydrate
With all the yummy and nutritious Thanksgiving food out there, sometimes hydrating can be overlooked.  Drinking water or herbal teas helps clean your teeth, removes bacteria, and balances your mouth's pH.  Plus, it helps with digestion and helps keep you full.  
If you are watered out, here are some other ways to drink hydrating liquids:
•    herbal teas
•    sparkling water
•    fresh fruit infused water
Happy Toothsgiving
I just couldn't resist that pun!  To wrap it up, yes, Thanksgiving is full of indulgence, but it is often overlooked that it's also full of teeth-nourishing foods too.  
Hope you found this information useful.  As always, I am here to support your dental nutrition needs from what to eat after dental surgery to how to nourish yourself every day to maintain oral health.  Any questions or to chat, please reach out via my contact page.
Cheers To Thanksgiving, Grateful For You
Additional Sources: